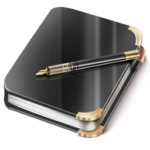 I'm adding this blog entry as a sort of declaration of intent, to try to reinforce my resolve to actually follow through and complete the task I'm setting for myself.
I've been working away on various bits and pieces on the zRPG Wiki, adding stuff here and there in an effort to create a detailed fictional fantasy world. I've been trying to pop on there whenever I've got some spare time, pressing the "Random Page" link and not letting myself leave the page until I've expanded the randomly selected article in some meaningful way. It seems to be working well enough, but I feel I need to take some extra steps to flesh out the world.
One of the characters I've put into the world is an explorer named Scylax Grimm, a fearless former mercenary who documented his many campaigns across the known lands, and would later go on to lead expeditions out into the unknown to discover new lands. I've latched onto this character and his voyages as being a good basis for some creative writing on my part. I'm not quite settled on where to start and how to structure it, but i'm veering towards it being a first-person narrative, the characters journal of his Voyages.
I've not really tried to do any creative writing in quite some time, so this will likely be quite a challenge for me, but i'm looking forward to the attempt. I'll try to keep this site updated with my progress.