I recently downloaded an application for my Android smartphone called Zombie, Run!, a very simple but hugely fun game that I downloaded purely for being Zombie related. The idea of the game is to use Google Maps and your GPS coordinates to place a number of zombies in your vicinity, which begin to chase you, and if you want to win the game, you have to start running, phone in hand, like a madman through the streets of your home town.
When you first load the application, you are presented with a number of configuration options to determine what kind of insane challenge you wish to set yourself. The first parameter is the level of zombie outbreak, of which there are four options, Controlled Outbreak, Early Local Infestation, Late Local Infestation and Total Pandemic. The second parameter is the speed of the zombie, of which there are three options, (2mph) Night of the Living Dead, (5mph) Resident Evil, and (8mph) 28 Days Later. As you could probably imagine, the highest settings are very difficult, if not impossible depending on where the zombies spawn. Once you've set these (or left them at default), you can start the game.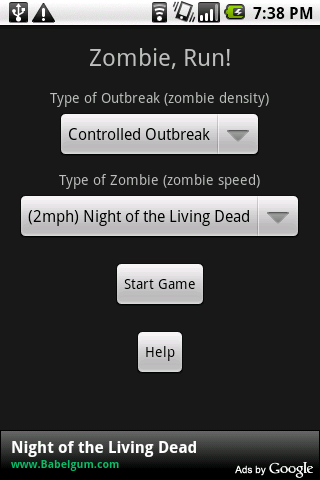 The Menu
When it loads up the map data (can take a few minutes), the game will ask you to pick your destination, this is where you have to reach in order to survive, and the game will place the initial groups of zombies somewhere along this route, so they are guaranteed to get in your way. This destination  is marked with a flag.
As soon as you've picked your destination, the game begins, and zombie icons will spawn on the screen. There are two colours of zombie, the green ones are those that are unaware of your presence, they wander aimlessly around as you'd expect zombies to do. The ones you really have to worry about are the red ones, these are the ones who have sensed you, and as soon as they do, they'll start chasing after you.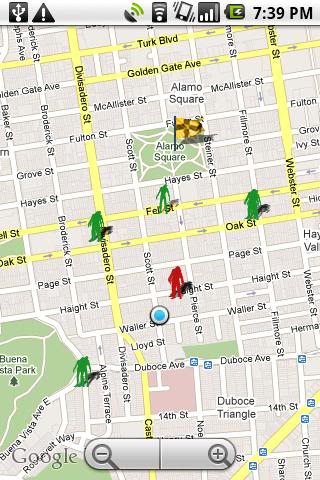 The Zombie Map
Things tend to get interesting quickly, with zombies coming at you from every angle, and depending on how fast you set your zombies to be, you may end up having to sprint down the street to stop the shambling dead from catching up to you. You really have to immerse yourself into the mindset of surviving against these little zombie sprites on a screen, otherwise it'll be a very short game.
I've been thoroughly enjoying this game, and it's surprisingly good exercise, sprinting down streets, changing directions when you realize your path is blocked by another group of zombies. You will definitely get some odd looks though, as you rush down the street in a panic, looking at your phone, shouting "FUCK!" and then run in the opposite direction.